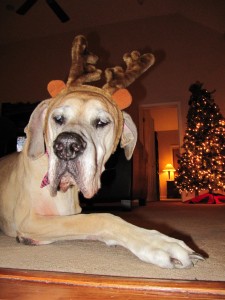 I hope everyone is having a fun holiday, I know I am!  I am so excited tonight because I know that Santa is coming and I know that I have been very good this year. Geesh, I have done everything that Mom has told me to this year, plus I have beaten that stupid cancer for over 37 months, so I hope that means that Santa will be good to me.  Some of you old-timer Tripawds might remember the song that Mom wrote a few years ago in 2008 right after I had my amputation.  Well, guess what? This year I convinced her to update the song with a new verse!  And I wanted her to share it with those of you who haven't heard it before.  So I invite you all to gather 'round tonight and join me and my family in a rousing rendition of my favorite Christmas song…. "Nova The Tripawd Dane Deer"
(sing to the tune of "Rudolph The Red-Nosed Reindeer")
You know Trouble, and
Abby and,
Wyatt and Sammy…..
Comet and
Fortis and
Gayle and Gerry…..
But do you recall…. the biggest ol'  lazy-butt Tripawd of all??
Nova, the Tripawd Dane Deer,
Gets around on just 3 paws.
3 years of cancer-free living…
Is the best gift from Santa Claus!
Bone cancer and glaucoma are very painful,
Nova'd often hang her big head.
Even some jerk at the Doctor,
Thought she should go to Heaven instead.
Losing a leg is not so sad,
Nova would say it ain't half bad.
Love surrounds her every day,
Lots of treats and snuggles coming her way….
She could have never done it,
If it weren't for Jerry, Jim and Rene….
And all of the Spirit Tripawds,
To guide her along the way!
(Verse 2)
Nova, the Tripawd Dane Deer
Is also known as "The Queen",
Sprawled out on her leather sofa "throne",
She's the laziest dog you've ever seen!
Her family gathers "round her,
Bearing treats and stuffies and cheese,
Surrounded by all of her favorite things,
The Queen is always quite pleased.
Even when she lost her sight,
And every day then looked like night.
But she kept her spirits bright,
For 3 years she's continued to lead the fight!
All if the other Tripawds,
Cheer her on with a big "hooray".
Nova, our Tripawd Dane Deer,
May you lead the way for many more days!
Merry Christmas, everypawdy!
Licks and Leans from Queen Nova of Tripawds… kickin' cancer's butt for over 37 months!