Tripawds is a user-supported community. Thank you for your support!
Wow…. in just two short months, Queen Nova will be reaching her 3 YEAR AMPUVERSARY. I simply can't believe that she has she had thrived this long, but I am so very thankful. At the end of September, on the 25th, there will be a "Paws of Hope" picnic at the Animal Cancer and Imaging Center here in Canton, MI, where Nova had her amputation and treatment nearly 3 years ago. We are so excited to attend so that we can give hope to others that are just starting their battles with osteosarcoma. We have had no health crises (with Nova at least) for so long, sometimes I forget she was even sick. The blindness has definitely slowed her down, but she continues to be happy and healthy.
Here are a few pictures of the Queen and her new "royal" collar, which was created by www.collarshop.org. She also has a hot pink zebra stripe collar, but has been wearing the royal one in honor of her latest ampuversary.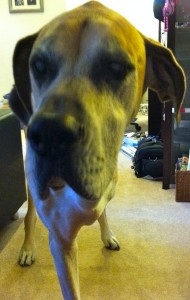 And here is a close up of her new collar: