Today Mom brought some rat-looking thing into our house.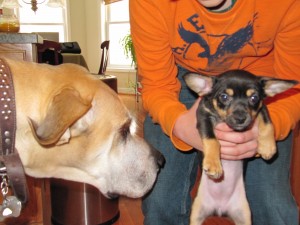 Ok, so it wasn't a rat, I am told it is a DOG, although I am having a hard time believing it.  Wow, I didn't think dogs came in this size.  I don't even think I was this small when I was a newborn puppy.  No, don't worry, Mom didn't get a new puppy, it is our neighbor's dog.  They had to go to a funeral today, so they asked Mom to take care of her while they were gone.  They know Mom is a world-class dog spoiler.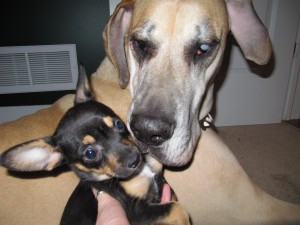 150 lbs of Great Dane meets 5 lbs of rat, I mean Chihuahua.  Oh yeah, the rat has a name.  It's "Bella".  I am so glad to hear that she is not staying forever.  Not that there was anything wrong with her, she wasn't mean to us at all. I just don't like her stealing Mom's attention. All afternoon Mom has been snuggling and petting and sweet-talking this little rat.  Walking around like Paris Hilton and her little Fifi dogs. HRRMMMPPPHH!  Can you believe the NERVE?  I thought I was her little snugglebunny.  She is even letting Bella sit on her LAP, of all places.  That's MY spot!!!  ARGH!!!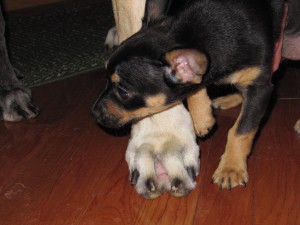 Check this out.  I could squash this thing with my Power Paw.  But of course I would never do anything like that.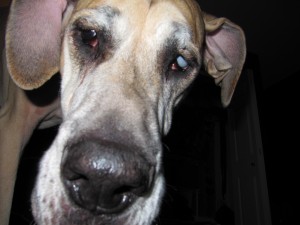 She wasn't even scared of me even though I am so huge.  But how could ANYONE be scared of a face as lovely as mine!?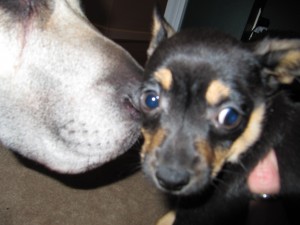 Bella and I got along great.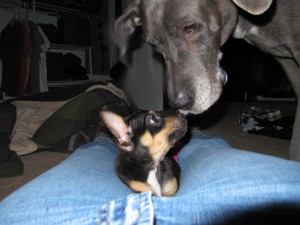 Emmy was a little more intimidated.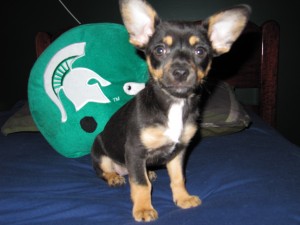 Thanks for a fun day, Bella!  I can't wait to get Mom all to myself tonight.  I sure hope her pawrents get here soon!