Dang!  Can you believe my Mom?  She has been such a slacker and has not updated my blog in over 3 months!  Geesh!  Now if she was a Great Dane, I would totally excuse the laziness thing. But she's a person, so she needs to do a little work now and then, dontcha think?  Sometimes I think about revoking her title as my Lady-in-Waiting.  Anyway, she is promising me that she will be updating the blog more often now that she has a new computer. I guess that old DELL-osoar was giving her such a hassle, it was a pain in the butt to post.  Well now that the Big Fat Guy in the Red Suit came at Christmas time (the same dude that brought me some great Pillow Pets, bully sticks and beef trachea) brought her this big thing on her desk called an iMac. I am afraid she might love this thing more than me!  She sits there looking at it all the time.  But the good news is that she is on Tripawds more. See?
Hey, would you look at that? Our buddy Jerry came up on the page, not me.  What's up with that? Oh well, maybe the next time Mom logs on I will be up there on the top.  I made Mom promise to post more pictures and updates about me, especially since I have some BIG days coming up this month.  First, my 26-month ampuversary will be this Tuesday, January 11th. And at the end of January, I will be celebrating my 7th BIRTHDAY. Whooo hoooo!  I think I might celebrate my birthday AWAKE this year (unlike my 6th birthday, which I amused you all by sleeping through.
I had a really good Christmas.  I got to see Santa again this year, for the 3rd Christmas since my amputation.  I think Mom already posted about that on the forum back in December.  Each year since my surgery, Mom has taken me to the Santa booth run by a local Vet's office during a winter festival in my town.  The first year the people there were all amazed to see a big dog like me getting around on 3 legs.  But you could tell they were a little sad, I could just tell (with those special powers that us dogs have) that they thought that I would be in Heaven by the next Christmas. So when Mom took me back the next year (2009), these same people (who doubted my ability to beat the cancer) were even MORE happy to see me. And this past Christmas, 2010, Mom took me back there for the THIRD time, and these people were doing all these silly happy dances (like we do when Mom's cooking steak or something) and calling me things like the "Miracle Dog" (totally forgetting royal protocol of addressing me as Queen, but that's ok). I guess people get a little crazy when you have kicked cancer's butt for so long.
Here's a picture, in case you didn't see it.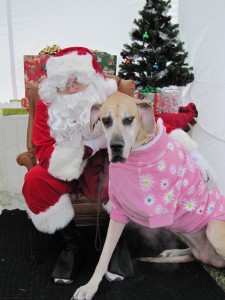 Let's see.  Back in November, we went too Grand Rapids for another gathering of Midwest Tripawds, to celebrate my 2-year ampuversary with Rocky, Boo and Gerry, whose Mom drove all the way from Wisconsin just to celebrate with me.  That was pawesome.  Mom says she already posted pictures of that on the forum, so I will trust that she did.
Here I am lounging at Christmas:
And supervising on Christmas Day:
Ok, it's time for Mom to go because she needs to feed me and Emmy dinner.  I've been really hungry lately and do not like to wait.
Licks, leans, and beef trachea for all!
Queen Nova of Tripawds (aka the Miracle Dog)